Interview:
Phantogram at Lollapalooza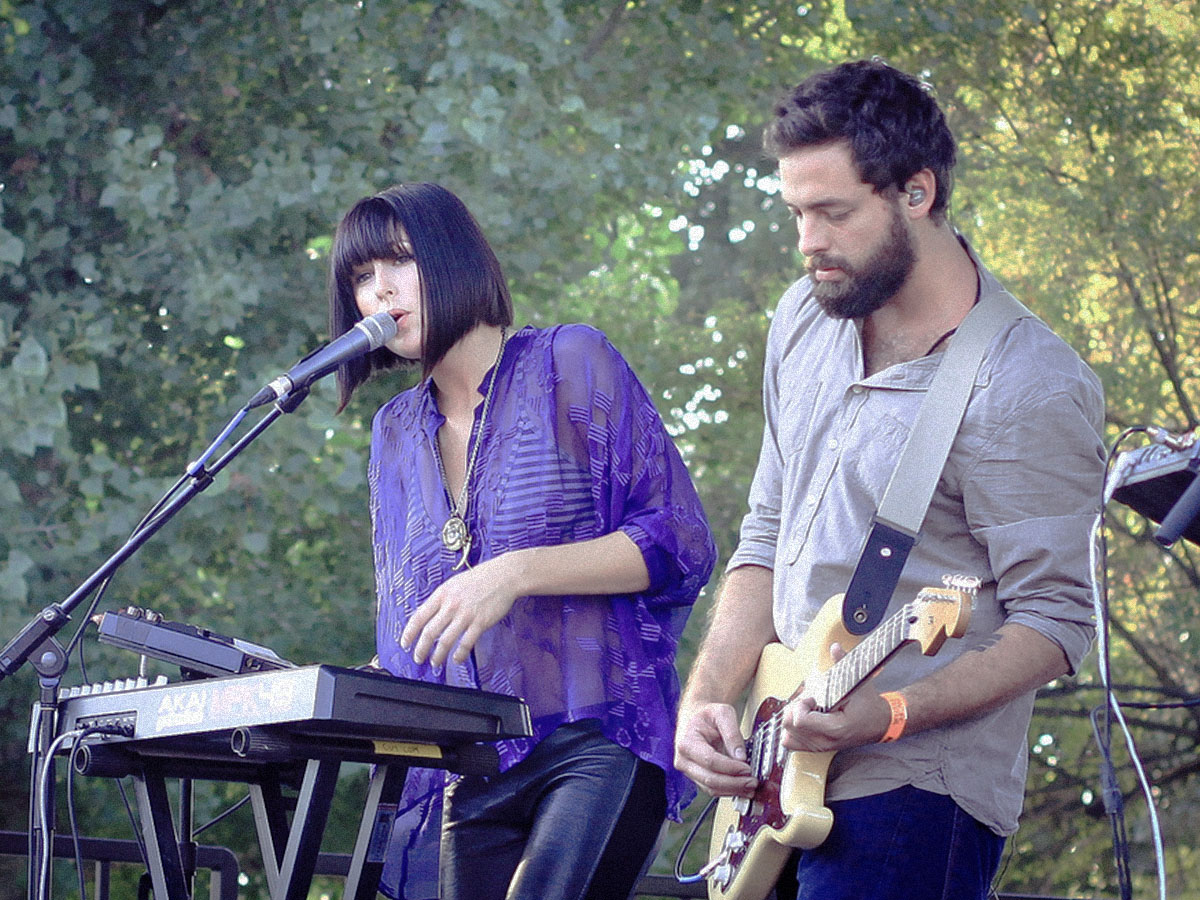 Words: DJ CJ
August 6, 2014
The electro magic of Phantogram is intensified in the open air yet demanding atmosphere of Lollapalooza
We just saw you guys in Providence, kicking off our Dunkin' Donuts Summer Concert Series… it was a great show!
Sarah: Oh, yeah, it was a blast. It was fun, tons of people showed up.
Yeah, there was a great audience. And you know, I'm always interested, when I go to more electronic concerts, because, you know, you never know what you're going to get with the sound, but it was amazing- and so much more of a rock concert than I expected. Is that something you hear a lot?
Josh: Yeah, I mean, one thing we like to do is really amp up our live show, and one thing that's important to us that I don't see with a lot of bands is that I think we want to create a different environment in the live setting than what's on the record…because why would you want to go see band that sounds exactly like what's on the record, you know? So we're trying to make it a separate thing, you know?
So how does that translate to a place like Lollapalooza, where you're outdoors, and it's a bigger crowd?
Sarah: Oh, yeah, it's just that everything is intensified, everyone's energy is just higher…whether it's at festivals, or even just at outdoor shows, like Providence, the audience is just really excited, and we're all celebrating music together, and there's just a lot of positive energy.
Are there any acts you have to catch while you're here?
Sarah: Yeah, I want to see Lorde, and Interpol, and the Arctic Monkeys..
Josh: Dark side.
Sarah: Yeah, dark side. Also, I we're kind of listening to War Paint right now, which is good.
Yeah, we've got a nice backdrop. So, what else have you been up to in the past few weeks, in between Providence and here?

Josh: Australia, for me. It was our first time being there, and it was a lot of fun to play there.
What do you take away most from Australia?
I've never been.
Josh: Meat pies.
Sarah: I took about five of them home in my backpack.
So I know that in the meantime, you had a couple cool remixes come out, do you want to tell us a little about those? Is that something you seek out?
Josh: Well, recently, our friends Future Islands did a remix of us, and it was amazing, and Alt-J did a remix of us as well.
How do you feel when you're remixed?
Josh: I think it's cool, because it just offers a different perspective on the music, and it's a cool way to portray the music… and it's also a good way for new people to get exposed to it- some people might just listen mainly to remixes, and not ever have heard of Phantogram, until they discover the remix of us, you know?
So, if there was a zombie apocalypse tomorrow, which of the two of you would survive?
Josh: Me.
Sarah: Yeah.
Josh: No question. No, I'm just kidding.
Sarah: It's because I'm a really slow runner, and he's a faster one.
Sounds like a plan. Ok, one last question- when you were in the studio last, …. Asked you that if you weren't in the music profession, which one you'd be in, and you said you'd be a comic. I have to ask, do you have a joke for us?
Sarah: (laughing) Uh, I don't right now…
I know, I'm putting you on the spot.
Sarah: I don't, I don't have any jokes right now. Josh does.
Josh: Yeah, we're full of jokes and stuff all day long.

Josh: Well, we're not pranksters, per say, but we're goofs. All day. Every day.
Awesome, thanks so much for taking time out of your day for us once again, it's been great to chat with you.
Sarah: Yeah!
Josh: Yeah, you too. Thanks!