New York, Glitter &
Mia Gladstone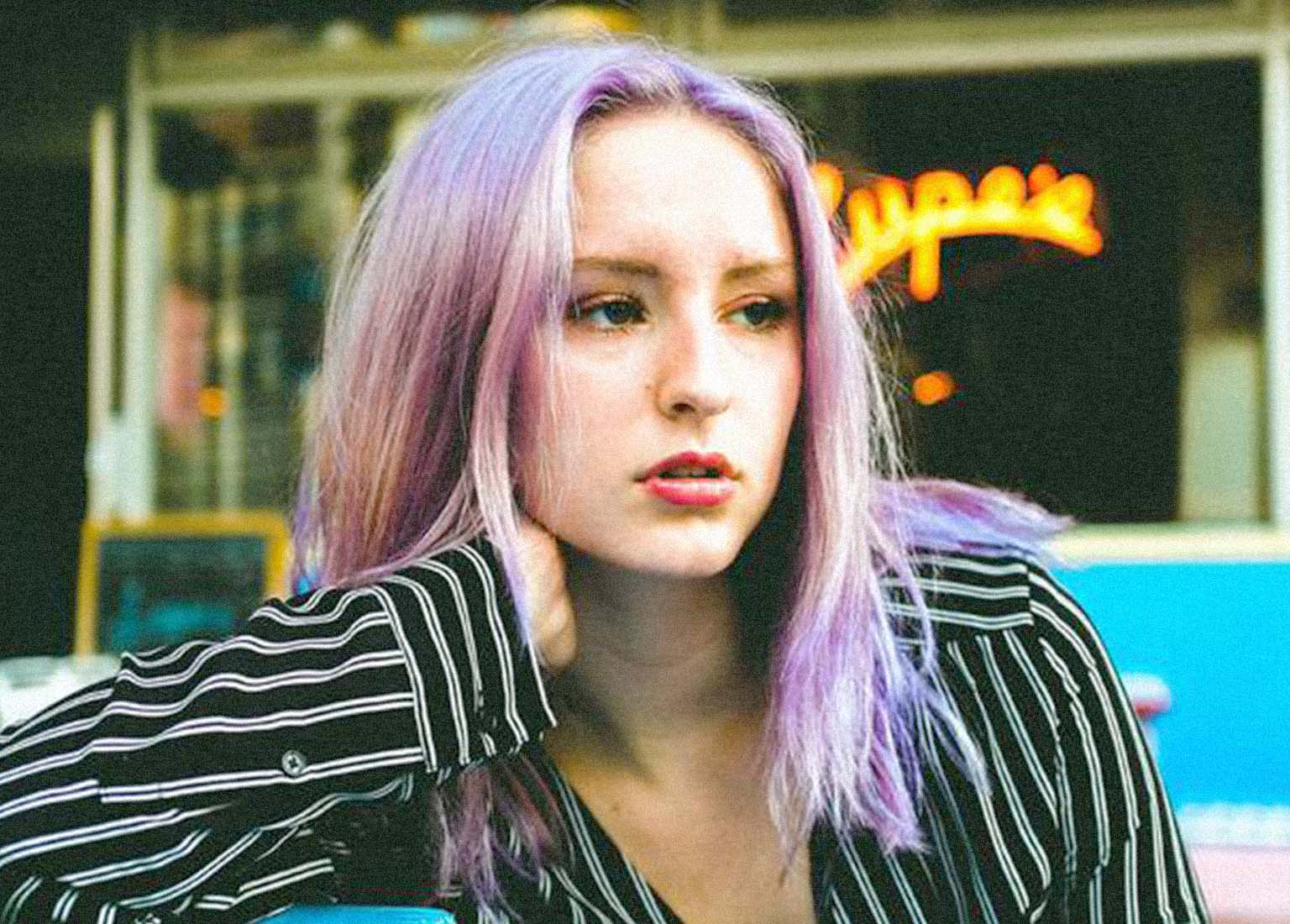 Words: DJ Olympia
May 5, 2019
Last week, Mia Gladstone sat down with WBRU's DJ Olympia to talk about upcoming projects, artistic milestones, and self-expression. Mia is a singer, songwriter, and producer from New Jersey. The release of her new EP is TBD.
Your new single
"Baby Don't Worry"
dropped last Wednesday. Could you tell me a little about that track?
I actually made that music… like everything from that era is from 2 years ago. I had just gotten out from high school and I was working with a producer called
The KickDrums
. We had been working together for over a year. Then, I went to this program in Ohio where I learned about audio engineering and just a little bit about recording, so I could be a little more self-sufficient. When I got back from Ohio, after about 5 weeks, we made the EP. It was a super inspirational time period because it was my first time being fully independent, and also I was super in love with life. I was in a pure state of love. I felt like I had cleansed myself because, being from Jersey, I'm right outside of New York. I'm always surrounded by many, many people, you know. I always liked that, but then, going to Ohio, kind of in the middle of nowhere in a town called Chillicothe, there wasn't much going on. It forced me to really look into myself, and it's helped me grow a lot. I'm really happy [the EP] is finally coming out! I'm really happy about "Baby Don't Worry" because it's my favorite song on the project.
So cool. I'm from New York myself so I can definitely understand wanting to get away from that sometimes. Can you speak to that?
I didn't initially feel like I wanted to be away from New York. More so, I kind of had a freak out when I applied to the program because I spent a lot of my money on it, and I was like "Fuck, why did I just do this…?" Also, can I curse on here?
So yeah so, it was definitely an unexpected thing because I was kind of regretting it, especially when I got there. I was like "Holy shit, where am I?" It was such a culture shock. But yeah, then it really paid off, and I can appreciate New York on a bigger scale now because I've been away from it.
Your music reminds me of Kali Uchis. Would you say that's a fair comparison?
Thanks! Well, I love her music, and, yeah, I've gotten that a lot.
Who or what inspires you?
I'm really inspired by colors. I record in my basement, and it's completely pink, including the ceiling.
Yeah! It really helps me create. People also inspire me, very genuine human interactions. Like on the subway, a little moment will really inspire me, it's very grounding to connect to other people that you don't really know.
We've been playing all together for six months or so. Most of them are students at NYU and the New School for Jazz. So, I'm playing with very talented musicians, which is so nice. They're all very cool people. I met them through my manager, who went to NYU.



How was it giving that performance for NPR?
It was so much fun! It came out better than I thought it would. We had never done anything like that before, and it was my first official recording with the band. It was really cool; I love my band. I was nervous at first because, when I was doing the Tiny Desk thing, I did not realize that they would release the video immediately. I was like, "Oh shit, okay, well that song's not out, but, I don't know," and then people really liked it, so. That song, "Leave That Ego at the Door," I'm releasing after my project.
I also watched your music video for "Hold it Down." I'm a sucker for quality music videos, so I got a kick out of that. Can you talk about the artistic process?

We did that video, like, I think, at this point, over a year ago. I'm sad that it's a theme in my career of like, taking a really long time to release stuff. So,
Josh Charow
directed it. He's a friend of mine. He skated with my older brother. He has a following on Instagram for his photography and I always thought he was cool but I never really knew him. And then he DM'd me, and he was like "Yo, I'd love to shoot your music video." So, we conceptualized it together. He had seen this photoshoot where my full body was covered in glitter, and he thought that was really cool, and that it could be a theme for the video. We kind of just wanted to make a world that I live in, because I'm all about being yourself and not going with the grain. It worked out really well!
My roommate and I are really about doing outrageous makeup looks. Do you do your makeup yourself?
For that video, it was a style by my friend Julia [Fischer]. She does a lot of my styling, and she's the one who came up with the glitter concept originally. She inspired me to get more into makeup because I always liked experimenting with it. Since, I've changed the angle I see makeup as. I used to see it more as "what's flattering." That was the goal, I was trying to cover up. But then, I stopped wearing makeup for a while and when I started again, I was like "What if I do it as an act of self-expression?" Put colors on my face that I love, and do shit that makes me happy and not shit that feels like a cover-up, like I have to put it on to be me.
How did you start your musical career? Did you ever think you would end up where you are now?
I knew I was gonna do music when I was born. It's the one thing I do, one thing I'm really passionate about (and animals). I've been releasing music since I was really young. I started out on Youtube (all the videos are gone now), but it's always been something I've leaned towards, making my career. And then, in high school, there were these panels where alumni who were in college would come in and talk about their experiences. All my friends were like, "Oh my god! College sounds so fun!" and I was so uninterested and kind of dreading it. I was like, "Holy shit, I cannot do that to myself." You know, I remember being in kindergarten and thinking about how much school I had left. "I'm gonna be here till 12th grade?" I was counting down the days. I managed to graduate school early by doing the bare minimum. They want everybody to be part of this system and go to college. It's always rubbed me the wrong way. I was really happy that I had a guidance counselor who wasn't trying to push me with "you have to go to college to be successful," because that's what they tell people.
Do you have any advice for young women artists?
My biggest piece of advice is to trust yourself. Also, experiment. There's really no rules in music, and in art in general. There should not be rules. You should be expressing yourself however you see fit. So don't let people just chime in advice because nobody really knows anything. The only person who has the answers for yourself is you.
Is there anything else you want people to know about you?

Body positivity is really important to me. Being free with your body in any way. Body positivity doesn't imply nudity, but a lot of people think it does. I'm very open with my body. It was a struggle growing up, you know, I always had issues with my body image. Especially with my boobs, which I'm very open with now, but, growing up, they made me really uncomfortable and to this day they make me really uncomfortable. Now that I'm owning my body and putting it out there, being like "this is me, I'm not ashamed," I think it's really unfair to shame people for their bodies. In high school, I've had teachers who'd make me wear a t-shirt. Such a weird thing because people are shamed for their bodies, as if we have any say in what we look like?


It's actually kind of a big topic on campus right now because tonight we have Spring Weekend, a concert series at Brown. There's a lot of discourse like, "can I wear whatever I want? Will I be judged at this concert where people are known to wear fewer clothes?"
It's sad that people's worth is defined by what they wear. I found that people feel really comfortable saying sexist things to me? Some people think that it dumbs me down as a person to be free with my body. I realize that's it's a societal thing, and I really want to change that. Even if people did have control over what they looked like, they shouldn't be shamed for it.

Do you have any plans for the future?
I have an EP coming out! The date is to be determined. I also have a video dropping for "Baby Don't Worry" really soon.
There's a full body glitter look haha. I'm super hyped because releasing the "Hold Me Down" video started a new era for me. A visual era, because I've never focused on visuals before, it was more so music.