Don't Forget the Opener:
Beshken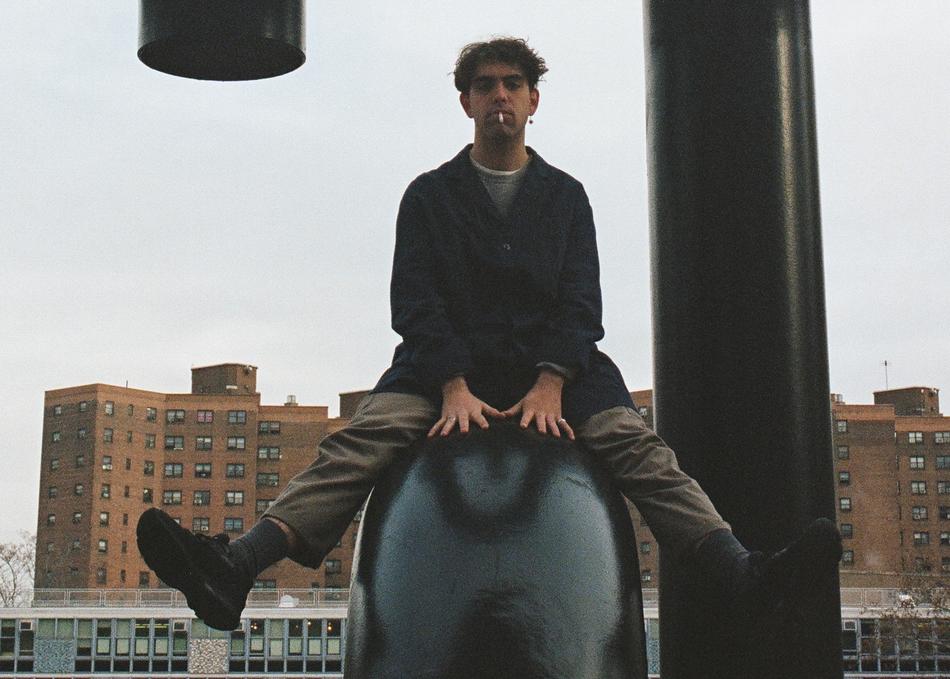 Words: WBRU
November 30, 2018
Recently, WBRU met with Gus Dapperton on his 2018 tour. Through that tour, we were introduced to Beshken, an up-and-coming artist based in New York City.
Starting off: you just got back from your tour with Gus Dapperton. How was that process for you?
It was life-changing. This was my first tour ever. It was kind of a dream, just because I've been friends with Gus for a while. So, it's really cool we got to do this together. You know, most artists want to tour. Not all artists, but I always wanted to. I got very little sleep, I drank too much, and we had fun. I think it should be fun.
Was it exciting to meet so many new fans on tour?
Yeah, one of the best parts was going to the merch table after the show to just speak with people who resonated with the set that didn't know my music. I had so many people come up to me and say, "I didn't know your music at all, but now I'm going to listen to you." Seeing that in person was really crazy and surreal. And touring is the way you get to see that. You get one-on-one interactions that you don't get when you release your music; there's always a feeling of separation. For me, that real interaction is really important. It hasn't gotten weird yet, and that's really nice.
How did you first get involved with music?
My mom. She's a big trip-hop fan. She listens to a lot of artists like Massive Attack and Tricky. A lot of really deep, deep stuff. I never really realized the impact that had on me until about a year ago.
Did she help you get started learning how to make music, or was this just influence?
She gave me the ability to be creative. She gave me the tools, but not music. Like, we'd always make collages together or she'd make papier-mâché. She makes tiles, since she used to be in the tile industry. Then, we had two kilns in the garage, so she made glassware. She told me she always made sure to have construction paper and felt everywhere so that, when I was young, I could use that. I guess that's what got me into art in general. Music specifically: I probably started playing guitar when I was twelve. That isn't that interesting of a story. Kind of just a boy who likes Jimi Hendrix and Led Zeppelin and wants to learn how to play them on guitar.
So the rest slowly evolved from there?
Yeah, definitely. I first got into music production because I wanted to DJ. So I asked someone what's the best program to DJ with, and they said Abelton Live, which is just not the best at all, but I downloaded it. Around that time, I also started to listen to people like Flying Lotus and Shlohmo. I went to a Flying Lotus concert, and he projected his Abelton session onto the visual. At the time, I was like, "That's insane. I wanna do that." That's what made me start with more intense music production. Obviously, I did the whole Garage Band thing like everyone else, but it truly sparked when I got the program.
On that note, how would you describe your own sound?
It's always evolving. Every project can be different. At the same time, though, I use similar materials. I guess you could say organic, electronic, ambient; I would say tempestuous is a really good word for the stuff I'm putting out. Hypnagogic is a good word too, but it's a bit overused. I think it fits, but some of the new stuff isn't that chill. The direction I'm going in is a bit more brooding and dark, intense and melancholy.
If you're at liberty to talk about it, what projects are coming up for you? For example, you just put out the Splice sample pack today.
Yes, I just put out the sample pack, which was cool. I started using Splice pretty recently, but I really like it. I record a lot of my own samples with my field recorder. So, a big part of the Splice pack is just recordings of my travels in Europe and the United States just going around. I think you can use any sounds for music. For example, I'll take me kicking a fire hydrant and make that into a snare drum, or I'll use a garbage can, or something like that. Sometimes, I'll just take a recording of a shower. Taking from the environment is definitely an overarching theme in my music, although it's not the key concept. But, yeah, in regards to new projects, I'm putting out a lot of new music next year. Hopefully, things will snowball from there, but something is definitely dropping in the first half of next year.
You also pretty recently released "Victim" / "The Medicine". What was working on those two songs like?
Those were two songs I created separately and were never meant to be together. But then, I didn't want to just release singles because that's what everyone does. So, I thought it would be a cool project, and that the songs kind of complemented each other well in their repetitiveness, specifically on drums. Aesthetically, sonically, they complement each other but also are clearly different. Then, the names of the songs worked, although I named them both before. So, I felt it all work out there. Conceptually, they were written at different times, but I feel the sentiment is very similar. They're both sort of about overthinking and what the medicine is for me. It's sort of a defense mechanism, taking the medicine, and, with "Victim," you're sort of the victim to that medicine. It was never a huge conceptual idea. Like, the lyrics are very much personal, about my relationship or relationships. "Victim" is about my relationship with my dad and "The Medicine" is about my relationship with my ex-girlfriend.
So, you mentioned earlier an overlying theme of evolution. Where do you see your sound or yourself going next?
I can tell you it's going to get a lot more electronic, less live-instrumentation, more modular synthesis, synthesizers, and dancier-oriented. I go back and forth between saying "I hate my guitar," and then being like, "My music sounds stale without some instruments or organic element." I actually worked on a lot of music when I was in Berlin last year, and I realized I couldn't play instruments there. Everyone just DJ'ed. I felt I had to make something totally electronic. That's what a lot of the newer stuff is, but with the last EP, that was me rediscovering my love for indie rock. I started dating my girlfriend, and we got so nostalgic for our high school days of listening to Angus and Julia Stone, listening to Washed Out and Tame Impala. I decided I wanted to make my version of an indie-rock album, but obviously, it shifted away from that. So, I don't know where it's going to go next. I have next year planned out, but that's it. I've started rapping a bit now, so we'll see where that goes. I'm really into it so far.
What is one thing you want to emphasize to people who haven't heard your sound before?
I'd tell them to stick with me through making music that makes them uncomfortable because it doesn't sound like my old music: to just have their expectations subverted and to be cool with that. That's just who I am as a person. I think I could create a sound for myself, but it's like, if I have one album with lots of guitar on it, the next album probably won't. It's not going to be me doing what was popular again. So, just stick with me through my transformation as a human being. I'm not going to try and stop my growth.