The Wrap-Up: This Week in Music + 12 Cuts
The Wrap-Up brings you the 5 largest music news stories of the week as well as information about new album and music video releases.
HEADLINES OF THE WEEK
1. Florence and the Machine continues to kill it with epic new video
This summer, following the June release of How Big, How Blue, How Beautiful, Florence and the Machine has been topping the charts (especially WBRU's 12 Cuts!), headlining concerts, and generally killing it. Over the weekend, they released a music video for both "Queen of Peace" and "Long & Lost." It takes some commitment to watch the ten minute video, but it's well worth it. This video combines the best aspects of the band's music with gorgeous cinematography, a riveting storyline, and a setting that's undeniably British.
2. Weezer shares video, invents "Winder"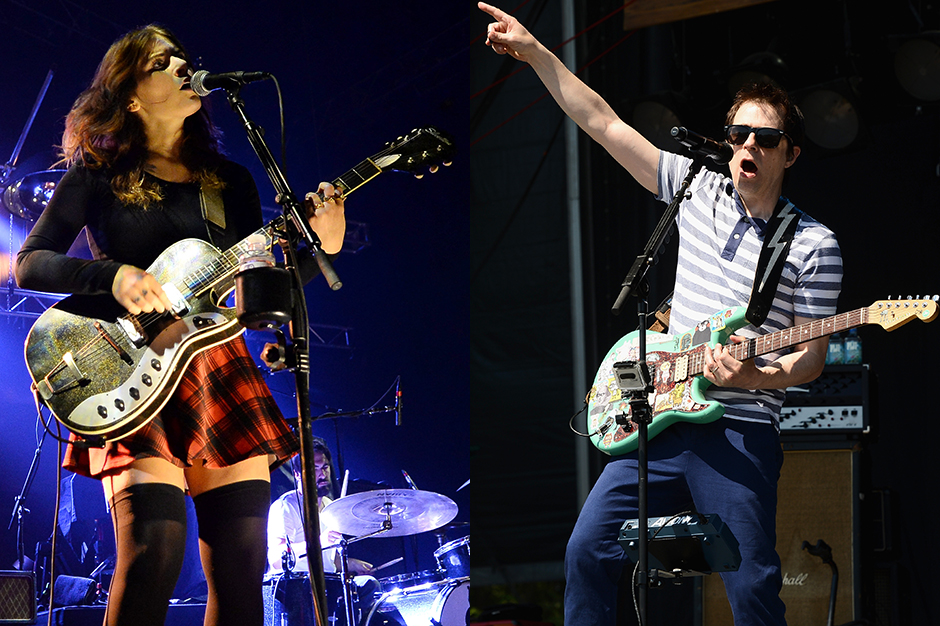 Weezer's still riding the wave that was 2014's Everything Will Be Alright In The End with the release of a music video for "Go Away" featuring Best Coast vocalist Bethany Consentino–and so are we. Incidentally, the video features some frolicking in the waves (fitting for a West Coast band like Weezer)…plus Tinder. Or, in this case, "Winder," because, you know, W for Weezer.
Watch Rivers Cuomo attempt to gain the heart of Consentino, separated by a screen and personal taste, below!
3. New Politics and friends play video games in their latest music video 
Here at WBRU we're big fans of DCD2 Records. With Fall Out Boy, Gym Class Heroes, Panic! at the Disco, New Politics, and Cobra Starship on the roster, how could we not be? So we were psyched to see them all join in on New Politics' video for "West End Kids."
The video's got video games, musicians, and lots of fun. Check it out!
New Politics' new album, Vikings, will drop August 14th, but more importantly: New Politics is joining Andrew McMahon in the Wilderness for the Wilderness Politics tour, presented by WBRU and Journeys, at Lupo's on November 19th.
4. U2 films coming soon on HBO
HBO keeps giving with its music documentary specials. Up next? U2, with not one but two feature documentaries confirmed for the fall. The first will be a behind-the-scenes look at what it's like to tour with U2, the second a concert film of the band's final show (in Paris!) of their iNNOCENCE + eXPERIENCE tour. The behind-the-scenes special will be directed by Davis Guggenheim, one of our favorite documentary director's for his work on 2008's It Might Get Loud, the surprisingly moving, fascinating, and funny profile of guitar legends. Seriously, if you haven't seen It Might Get Loud yet, check it out–you can't go wrong when you put the Edge, Jimmy Page, and Jack White in a room together. The forthcoming U2 film should be just as good.
5. Yoko Ono is releasing an album with all (okay, many) of our favorite musicians
Yoko Ono will release Yes, I'm a Witch Too, a sequel to 2007's Yes, I'm a Witch, in early 2016. Any work by the multitalented artist and activist would worth be worth a listen merely because of her talent and cultural significance, but we're especially excited because she just announced a star-studded list of collaboration:
Portugal. The Man, Death Cab for Cutie, tUnE-yArDs (who are playing Columbus Theater in Providence on Tuesday), Miike Snow, and her son Sean Ono Lennon are among the artists that will feature on the new album. Check out the charming and expansive "Revelations," her 2007 collaboration with Cat Power, below.
And now, your 12 CUTS ABOVE THE REST!